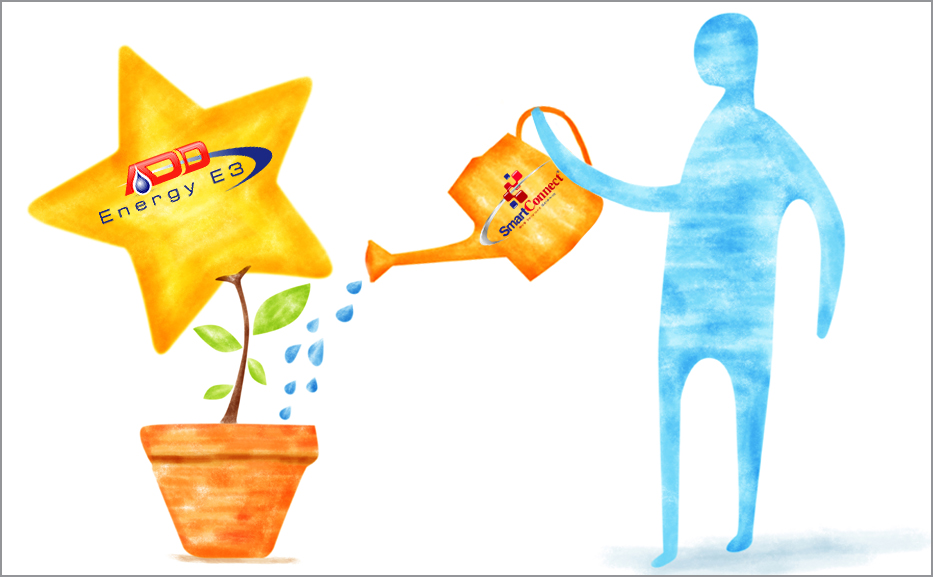 By: Richard Rutigliano, PriMedia Inc.
As an ADD Energy E3® client, your company is collecting and managing customer data in an integrated backend operations network that connects accounts receivable, credit, delivery, service, inventory and more. But are you using all that information to enhance your customers' satisfaction and online self-service options in a way that will increase sales and customer retention?
By expanding your Energy E3 portfolio to include SmartConnect®, and working with an experienced Energy E3/SmartConnect developer, you can create an online portal that automatically writes back updates to your Energy E3 files. The broad scope of SmartConnect solutions can be harnessed to offer 24/7 access to:
Account information
Transaction, delivery and service history
Invoices and statements
Online payment services
Service, budget and price protection agreements
Loyalty programs
SmartConnect offers more than just real-time access. With SmartConnect your customers can enroll in price protection and service contracts, update their account information, request service or delivery, and more.
You probably knew that already, and that's well and good for the customer. But advanced integration programs take these applications even further. With an advanced customer access portal you can:
Offer complete, integrated online new customer applications including credit checks and account creation in ADD Energy E3
Track sales leads from the first call to the close, and automatically create the new account
Deliver targeted marketing messages based on the customer's account details
Send email reminders and promotions to one customer at a time … or to all of them
Send individual or group text messages
Provide the customer with technician information, including photos, in advance of the service appointment
Remind customers of payments due
Track storage tank levels
All of these advanced options will also reduce the amount of time your staff is tied up answering basic phone calls, and free them up to work on sales and other business initiatives. Your portal should also include a company dashboard for your team to access, which includes:
Single employee log-in to access all integrated programs
"View as customer" ability to make it easier to answer questions and enter data on behalf of the customer
Custom permissions so you control employee access
Log entries to track changes to all accounts
Scalable reporting on all programs and promotions
Custom marketing features enabling your company to create promotions as needed
When choosing a developer to integrate SmartConnect and create your customer self-service portal, make sure you're getting exactly what you need. Be sure to ask the following questions:
How long have you been developing SmartConnect integrated portals?
Which of the SmartConnect solutions are you familiar with?
Will I be able to customize your software to match my company's operations?
Can I see a demo of your software and admin areas?
How intuitive are your portals and admin areas? Are they easy to use?
Will all data write back to E3?
Will the customer portal and internal dashboard be device responsive?
What training and support services do you offer?
Can I speak with other clients about their satisfaction with your services?
PriMedia, Inc. has been developing SmartConnect integrated customer self-service portals for nearly a decade, and has a full suite of software solutions to make the most of the data in E3. Over the next several months, we will be providing in-depth looks into how you can integrate the SmartConnect Customer Look-up, Delivery Ticket, Service Order, Payment and Credit Card, Customer Add & Modify, Price Plan SLPP, Create Log Entries and Tank Monitor modules to create a company-specific Account Management, Price Protection Enrollment, Advanced Loyalty Rewards, Service Plan Enrollment, Text Messaging, Online Targeted Marketing, Email Marketing, New Customer Enrollment and Lead Tracking portal.
PriMedia is a leader in providing full-service marketing and communications solutions to the home comfort industry since its founding in 1993. PriMedia offers proprietary, custom developed web-based services for energy marketers developed specifically for SmartConnect and ADD Energy E3. A full-service marketing and communications company, PriMedia can assist your company with its web development, customer portals, traditional and digital marketing, and more. 
For more information on how PriMedia can improve your business, please contact PriMedia at 800-796-3342 or info@primediany.com, or your ADD Systems sales associate at 1-800-922-0972 or sales@addsys.com.